Explore Singapore's Wondrous Parks & Gardens
Complete your visit to Singapore with a day or two of relaxation amidst the beauty of nature at the gardens and parks in Singapore. The many parks in the city include stunning gardens such as the Singapore Botanic Gardens and the iconic Gardens by the Bay, as well as nature parks such as the Singapore Zoo safari park and the breath-taking Jurong Bird Park.
Here, we highlight some of the best nature parks and gardens in the city. The St. Regis Singapore is one of the hotels near the beautiful Singapore Botanic Gardens, which is merely a few minutes away, whether you choose to travel on foot or with our Signature Bentley Transfer. Venture further and explore the majestic Gardens by The Bay or the Singapore Zoo at Mandai. For a truly exciting experience with the family, explore the Night Safari, the world's first safari park for nocturnal animals, and Jurong Bird Park, a nature park housing over 400 species of birds.
Whether you wish for a leisurely picnic at the Botanic Gardens or a day with the colourful tropical birds at Jurong Bird Park, The St. Regis Singapore Concierge Service or your Butler will be happy to assist.
National Orchid Garden
Cluny Road - 1.0km
Since 1859, orchids have been closely associated with the UNESCO World Heritage Site of Singapore Botanic Gardens. The products of the Gardens' orchid breeding programme, which began in 1928, deserve a place where they can be displayed in their full splendour.
Singapore Botanic Gardens
Cluny Road - 1.0km
The Singapore Botanic Gardens, a UNESCO World Heritage Site, is a dynamic and living monument to the foresight of the founding fathers of Singapore. Sir Stamford Raffles, the founder of Singapore and a keen naturalist, established the first botanical and experimental garden.
Singapore Flyer
Raffles Avenue - 5.0km
At a height of 165m, Singapore Flyer is the world's largest Giant Observation Wheel and also one of Asia's biggest tourist attractions. Singapore Flyer was conceived and designed by Dr. Kisho Kurokawa and DP Architects, Singapore.
Merlion Park
Esplanade Drive - 6.0km
Standing at 8.6 metres high and weighing 70 tonnes, the Merlion statue has a lion's head and a fish's body, and is housed here in this 2,500 square metre park. Today, it has become one of the most photographed national monuments.
Gardens By The Bay
Marina Gardens Drive - 8.2km
Open in June 2012, Gardens By The Bay encapsulates the essence of Singapore as a Garden City. From the magnificent Flower Dome to the alluring Cloud Forest, the distinctive horticulture-themed venue is the perfect leisure destination for all nature enthusiasts.
Flower Dome
Marina Gardens Drive - 8.2km
Be awed by the spectacular venue of the Flower Dome – an indoor conservatory that cultivates thousands of flora and fauna from the cool-dry climate of the Mediterranean regions like South Africa, California, Spain and Italy; and be sure to look out for the 1,000-year-old Olive Tree as well.
Cloud Forest
Marina Gardens Drive - 8.2km
One of the icons of Bay South Garden, the Cloud Forest is a mysterious destination that is home to plants from highlands all over the world. At the same time, be inspired by the 35-metre tall mountain covered in lush greenery that shrouds the world's tallest indoor waterfall.
Marina Barrage
Marina Way - 9.6km
Built across the mouth of the Marina Channel, the Marina Barrage creates Singapore's 15th reservoir, and the first in the heart of the city. With a catchment area of 10,000 hectares, or one-sixth the size of Singapore, the Marina catchment is the island's largest and most urbanised catchment.
S.E.A. Aquarium
Sentosa Island - 10.0km
Discover the awe-inspiring world of life in the ocean at the world's largest aquarium. Step into S.E.A. Aquarium and immerse yourself in a magical marine world seen through our planet's largest window to the ocean.
Jurong Bird Park
Bird Park Drive - 18.5km
Opened in 1971, Jurong Bird Park is Asia's largest bird park, offering a 20.2-hectare hillside haven for more than 5,000 birds over 380 species. It creates simulated natural habitats from the grasslands of Africa to the rainforests of South America for different bird species.
Night Safari
Mandai Lake Road - 25.0km
Opened in 1994, Night Safari is the world's first safari park for nocturnal animals. It spans 35 hectares of secondary forest and is home to over 2,500 animals of over 130 species, of which 38% are threatened.
River Safari
Mandai Lake Road - 25.0km
Venture into earth's deepest river and come face to face with the world's largest freshwater puffer fish as well as one of the smallest crocodiles in the world. Also, meet the famous giant pandas, Kai Kai & Jia Jia, in their beautiful forest sanctuary where they can be seen playing and eating their favourite bamboo!
Singapore Zoo
Mandai Lake Road - 25.0km
For 40 years, Singapore Zoo has been known to have among the most beautiful settings in the world, where animals roam freely in open and natural habitats. Covering 26 hectares, the park is home to over 2,800 animals representing over 300 species.
Travel In Style
Luxurious Bentley Transfer
We invite you to enjoy a comfortable experience to your preferred local sights with our fleet of chauffeured customised Bentleys.

Please contact the St. Regis Singapore Concierge at (65) 6506 6876 or email us here for an advanced reservation.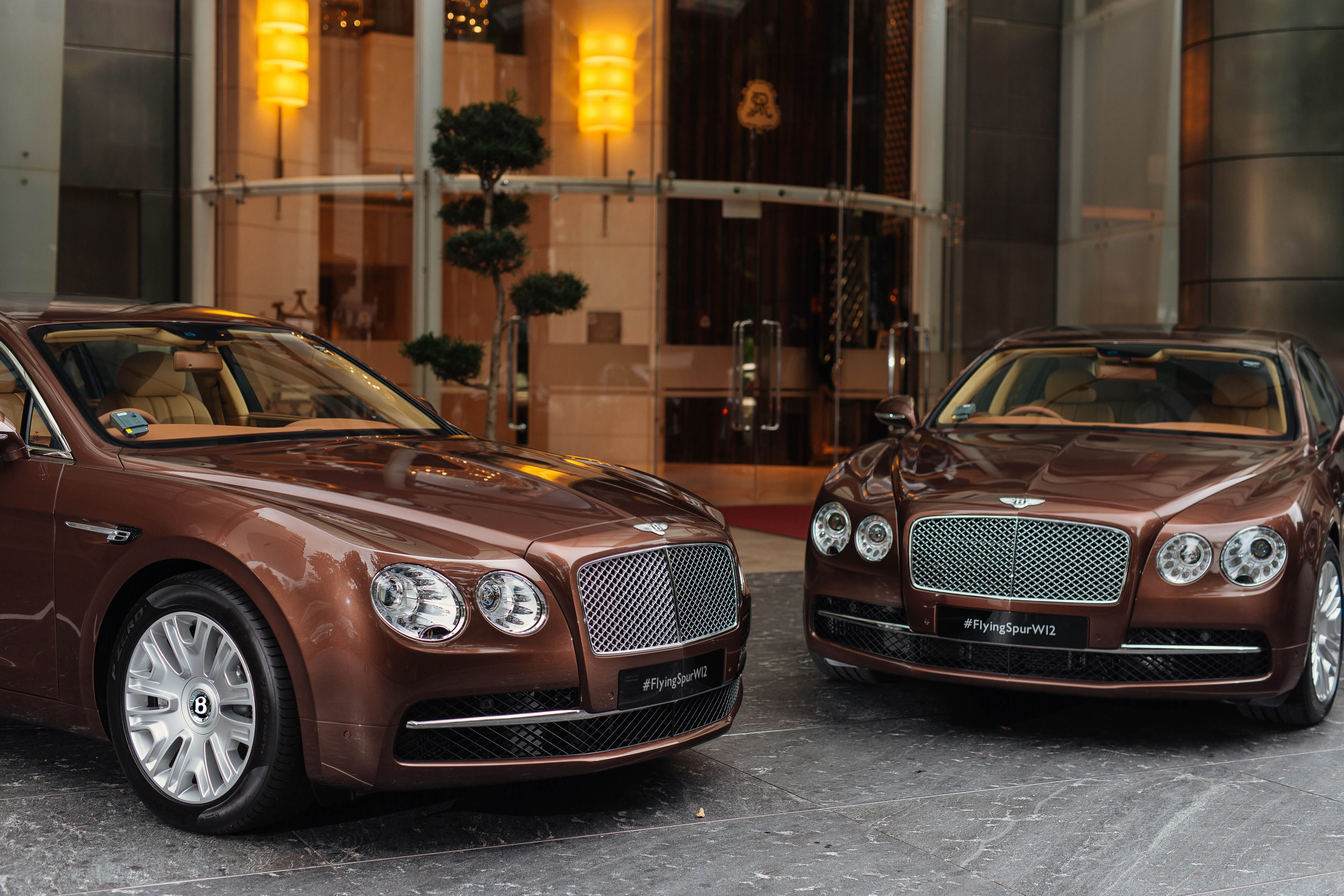 Guest Reviews
Hear from our guests about their stay from 759 verified guest reviews
82%of our guests
recommend this hotel
JimVet
Spent 15 days visiting various countries in SE Asia. Vietnam, Thailand, Singapore also two visits to Tokyo. Since flights from USA to Vietnam and Thailand were less costly with and provided a break we booked stop overs in Singapore. Original plan was two different hotels in Singapore to be closer to various sights. 1st stop was Japan for one day. 2nd stop was a stopover in Singapore for two nights to visit and explore. The St. Regis was beyond expectations and the service probably the best I have had at any hotel. It was beyond Excellence. Fantastic airport pickup with no wait. Informed driver provided information on sights as we drove to Hotel. Hotel was prepared when were arrived and check in was immediate. Do to the hour we elected to have room service prior to resting for the night. Food was excellent. The hotel is beyond expectations and I highly recommend for either a long stay or a stop over prior to exploring other countries. The hotel was so good we elected to make another stopover on return to Atlanta via Singapore. Only at hotel for 12 hours on 2nd stop over and again it was beyond expectations. Airport transfer was ideal. No wait and quick trip to Hotel to relax, have nice dinner prior to early morning departure. Hotel arranged vehicle to Airport since our flight back to Japan was early AM. All went beyond expectations. Since we were using the same stopover hotel in Singapore before exploring other countries we were able to store winter clothing at hotel and sent a few items to laundry. It made trip really special. When we returned to St. Regis for the return back to winter in USA our clothes were ready and it made for an extra delightful return trip. St. Regis made the trip extra special. Highly recommend this hotel when you visit Singapore or if you need to have a stopover for a long period of time it will make the trip even more delightfuly. Excellent rooms, service etc. Just a great place to stay in a vibrant City State. Unknown on our travel plans we would be visiting Asia during CHinese New Year. Hotel was decorated and added extra touch for a special time of year. Chinese New Year is really special time in South East Asia.
4.2 /5
Room Comfort

Hotel Staff

Quality of Sleep

Facilities

SPG Recognition

Food & Beverage